Residence Hall Coordinator
The Residence Hall Coordinator (RHC) provides year-round leadership and direction for a specified residence hall or community. The RHC supervises and maintains a comprehensive inclusive residential living program for students and summer conference guests. The RHC is also responsible for creating and implementing a developmental program for both professional and paraprofessional staff. The RHC is responsible for the daily direction of the residence hall facilities, operations, and programs. In addition, the RHC serves on at least one University Housing Services Professional Staff committee. The RHC also provides professional presentations to paraprofessional and professional staff based on current trends and training in higher education and college student personnel. The RHC will strive to create a residential environment that is conducive to living and learning. This is an entry-level position designed to progress within the field as such; this position has a 5-year limit.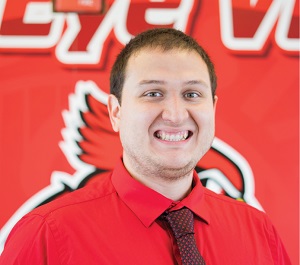 "I want to build connections with students and help mentor and guide these students towards success."
- Cristian, RHC
Main Responsibilities
Student Development
Select, train, supervise, and evaluate Resident/Community Assistants and a Graduate Assistant.
Advise an Leadership Association or Diversity Coalition.
Teach an RA/CA class or facilitate RA/CA in-service.
Provide training and development for staff members.
Oversee and provide guidance for staff's programming efforts.
Identify and create opportunities for those in underrepresented groups to gain leadership and employment opportunities.
Counseling
Counsel residents and staff based on student development theory.
Interpret, deliberate, and enforce university policies, procedures, and regulations.
Use discretion when adjudicating policy violations.
Participate in 24-hour on-call/duty coverage for Residence Halls.
Counsel individual students seeking assistance in mediating personal/community conflicts.
Leadership
Provide leadership for regularly scheduled staff meetings and in-hall training.
Manage room/hall changes and consolidation process.
Synthesize the completion of residence hall assignments.
Develop objectives as a member of a standing professional staff committee.
Maintain regular contact with inter and intradepartmental staff.
Oversee Summer Operations and special projects for University Housing Services.
Responsible for managing time and establishing work priorities.
Salary
This is a 12-month exempt position with a starting salary of $3,881/month with benefits.
This is a live-in position and staff is provided with a furnished apartment and 100 meal swipes per semester.
Required Qualifications
Bachelor's Degree in College Student Personnel, Counseling, Higher Education, or related area of study.

Experience with building and maintain collaborative partnerships with faculty and various campus stakeholders
Strong supervisory and organizational skills.
Crisis management skills.
Valid driver's license.
Preferred Qualifications
Master's Degree (or US equivalent)
Able to provide leadership for Themed Living Learning Communities.

Office administrative skills; competent computer and Microsoft Office skills.

Strong problem solving skills.

Ability to provide student-centered and customer service orientation.

Strong oral and written communication skills and active listening skills.

Ability to accept change with a positive attitude.

Flexibility and adaptability to shift from one task to another.

Sensitivity to multi-cultural issues and supports a diverse environment.

Ability to make decisions with an inclusive lens.

Knowledge of and commitment to Student Development Theory.

Utilization of data collection and needs assessment in order to make quality decisions.
Application Instructions
This is a security-sensitive position; comprehensive criminal background checks will be conducted. Questions can be directed at Tim McCue at Tmmccue@IllinoisState.edu.
Applications can be submitted here.