Where to Eat
Watterson Towers is equipped with its very own Dining Commons. In addition, there are many different locations on and off campus that serve as close locations for students.
Places to Study
Looking for a quiet place to study? Here are some options in Watterson Towers:
Conference Room 1 (Can be used during fitness center hours, Attendant can schedule)
Conference Room B (Can be used when not scheduled, Schedule in the Area office)
Informal lounge (South Tower)
Piano Room North (Check out key at the front desk)
Piano Room South (Check out key at the front desk)
Watterson 205 (Watterson Multipurpose Room)
Refrigerators
Refrigerators are permitted in students rooms, but must not exceed more than 4.3 cubic feet and do not draw more than 1.5 running amps. University Housing Services allows students to bring their own refrigerators, but does not rent or provide them.
Laundry
The laundry rooms in Watterson Towers are located on the top floors of each tower and are available 24 hours a day, seven days a week. The cost is the same for the washer and dryer at $1.25 per cycle if you use coins or $1.10 per wash/dry cycle if you use your Redbird card. Either HE (high efficiency) or regular detergent may be used.
The on-line LaundryView Monitoring System shows which machines are available and how much time remains on them.  You can also use the site to send you a text when your machine is done.  Visit the site at www.laundryview.com to see more!
Fitness Center
Fitness Center Hours

| | |
| --- | --- |
| Monday: | 8 a.m. - 11 p.m. |
| Tuesday: | 8 a.m. - 11 p.m. |
| Wednesday: | 8 a.m. - 11 p.m. |
| Thursday: | 8 a.m. - 11 p.m. |
| Friday: | 8 a.m. - 9 p.m. |
| Saturday: | 9 a.m. - 6 p.m. |
| Sunday: | 10 a.m. - 11 p.m. |
Alarm clock
Bathrobe
Bathroom caddy
Bedding (extra-long twin)
Computer
Desk lamp (no halogen lamps/bulbs)
First aid kit
Garbage can
Headphones
Iron
Shower shoes
Towels
Umbrella
For more information on what is nice to have and what you should leave at home, please visit the Move-in page.
Floor Designations provide a unique atmosphere for residents who share common interests and are interested in an environment that supports personal growth, both socially and academically.
Watterson Floor Designations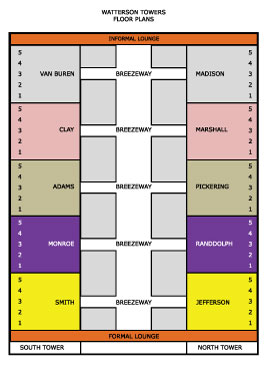 Watterson Towers Front Desk: (309) 438-0249
Mailing Address
North Tower
Student's Name
Room # House Name
315 S. Fell Ave.
Normal, IL 61761-2581
South Tower
Student's Name
Room # House Name
319 S. Fell Ave.
Normal, IL 61761-2898
House locations
North Tower: Jefferson, Randolph, Pickering, Marshall, Madison
South Tower: Smith, Monroe, Adams, Clay, Van Buren
Staff Directory
Area Coordinator: (309) 438-0549
Assistant Residence Hall Coordinator: (309) 438-4452
Jefferson/Smith Hall Coordinator: (309) 438-4447
Randolph/Monroe Hall Coordinator: (309) 438-4516
Pickering/Adams Hall Coordinator: (309) 438-4451
Marshall/Clay Hall Coordinator: (309) 438-5795
Madison/Van Buren Hall Coordinator: (309) 438-5632